When social media meets decentralized finance, the result is SocialFi – a type of web3 application. On SocialFi platforms, which is short for "Social Finance", users not only share content but also enjoy decentralized financial features within the same platform.
By combining the Blockchain and Social Network, users in SocialFi apps can interact on social media platforms, create content, and continue their interactions using tokens or other valuable assets. Unlike popular social networks like (X, formerly known as Twitter) where tokenization or valuable assets aren't utilized, users on SocialFi apps can create value and actively use tokens like Ethereum.
While token usage and point collection mechanisms might vary across platforms, these SocialFi applications, functioning like social media, allow users to tip each other. Users can buy and sell someone's profile, reward the content created, and engage in likes, shares, and comments.
Features of SocialFi Platforms
Although each SocialFi platform offers distinct options, they typically include mechanisms like point collection and potential token rewards through future airdrops. Many of these platforms, despite being in early stages, have attracted a significant user base driven by point collection.
Private chat rooms exist on SocialFi platforms. For instance, on platform X, if you want to reach out to a favorite influencer whose messages get lost amidst fame, users can purchase tickets or keys to these profiles to access private chat rooms.
Platforms like Friend.tech or StarsArena allow users to buy and sell these tickets or keys. Despite different terminologies, these keys or tickets enable users to purchase and sell values of profiles they admire.
Most Popular SocialFi Platforms
What is friend.tech? How to Use friend.tech?
Friend.tech is one of the pioneering SocialFi platforms created by an anonymous founder known as 0xRacerAlt. The platform exclusively offers mobile services. Here, users can buy or sell each other's "X" profiles, join chat rooms, and accumulate points for potential airdrops.
Being the SocialFi platform with the highest Total Value Locked (TVL), friend.tech can be accessed through a mobile-based browser. The platform doesn't have an official app in online stores like AppStore or PlayStore.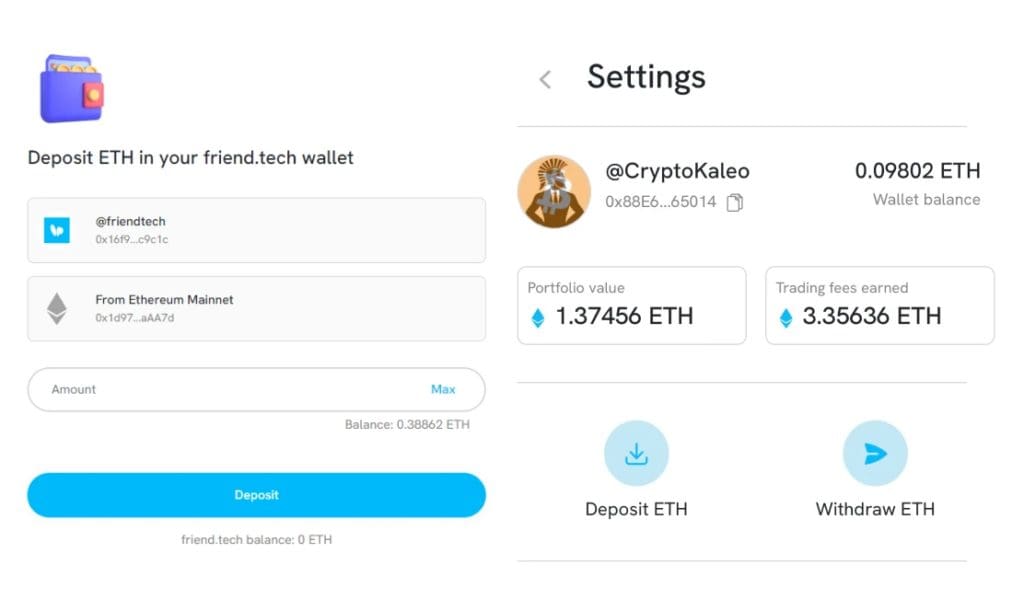 Once registered on Friend.tech, users can begin using the app after transferring their chosen amount of ETH to Ethereum deposit addresses on the Base network. They can buy shares in the app, and, if desired, purchase multiple shares, evaluate them, and resell or do the same for other X users.
Two standout features in the wallet interface deserve attention. Users earn Ethereum both from buying/selling profiles and commission from transactions. On the left, the interface shows the total value of owned X user profiles, and on the right, the commission earnings from transactions.
Friend.tech creator, 0xRacer, emphasizes that users shouldn't "import" or transfer the app's separate wallet outside the platform.
Related: FriendTech Storms the Market: Reaches $50 Million in TVL
What is Post.Tech? How to use Post.Tech?
Post.tech is a Web3-based social network platform where profiles become assets, and interactions translate into tangible value. The platform operates over Ethereum's Layer 2 network, Arbitrum. Similar to friend.tech, ETH tokens are used in this application. Post.tech claims to aim for mechanisms that offer maximum fair benefits to its users.
Like other SocialFi apps, Post.tech also allows users to log in with an X profile. On this platform, different X users can buy and sell each other's profiles. Unique to others, this platform is situated on the Arbitrum network.
Related: Post.Tech Sees Growing Volumes, Giving Friend.Tech a Run for Its Money
What is StarsArena? How to Use StarsArena?
StarsArena stands out among SocialFi platforms, primarily because it uses the Avalanche (AVAX) token and is built on the Avalanche network. Unlike friend.tech, StarsArena doesn't charge an entrance fee, allowing users to set up profiles within seconds. Unlike other platforms, it offers users a feed similar to X. On this platform, profile owners decide whether their posts will be visible to everyone or only to those holding their profile tickets.
Upon linking an X account, StarsArena profiles are instantly auto-generated. Users can view trending profiles from the "Trends" page, see the most valuable accounts from the "Top" page, witness all transactions in the "Activity" section, and explore new users in the "New" segment.

In summary, SocialFi platforms allow users to buy and sell all X profiles. While making these transactions, they can profit from profiles that appreciate in value or incur losses from declining ones. Users earn commissions from transactions on SocialFi platforms. They can then buy new profiles or transfer the platform's tokens to their wallets. While StarsArena uses the AVAX token, PostTech and FriendTech utilize the ETH token.