What is Ledger?
Designed for the secure storage of cryptocurrencies, Ledger is a popular hardware wallet manufacturer. These wallets use a specialized chip to store private keys, ensuring that cryptocurrencies cannot be accessed from internet-connected devices.
Ledger wallets support Bitcoin, Ethereum, Litecoin, Ripple, and many other popular cryptocurrencies. The wallets have a user-friendly interface and are easily usable for beginners. Additionally, the wallets allow for the backup of private keys, so they can be recovered if the wallet is lost or stolen.
Now is the best time to buy a hardware wallet! We have good news for you.
In the campaign that will continue until the 26th of September, earn $10 worth of Bitcoin with every purchase of Ledger Nano X or Ledger Nano S Plus.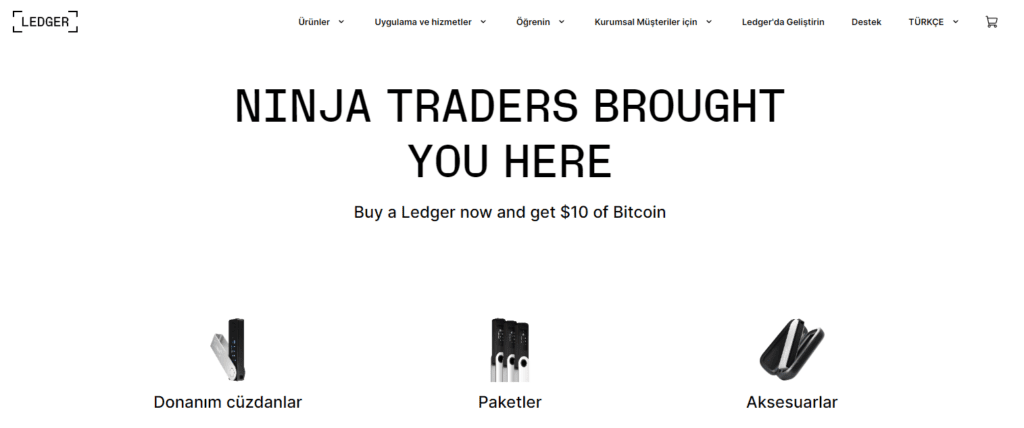 There are two different types of Ledger Nano: Nano X and Nano S Plus. Nano X is a hardware wallet that can seamlessly connect with a smartphone or computer and can be carried in your pocket. Thanks to the Ledger Live app and service providers, you can securely buy and swap cryptocurrencies. Nano S Plus is a portable hardware wallet that can connect with Android devices or computers.
To benefit from the campaign and earn $10 worth of Bitcoin, you can buy Ledger Nano X or Ledger Nano S Plus from here.
Although there are many similarities between the two wallets, Nano X is different due to its Bluetooth connectivity and support for the Ledger Live app on iOS. Don't miss the opportunity to buy the Ledger Nano wallet, which is an ideal solution for securing your crypto assets, at a reasonable price and earn 10$ worth of Bitcoin!
Publications marked up with sponsored tags are sponsored. Ninja News does not endorse and is not responsible for or liable for any content, accuracy, quality, advertising, products, or other materials on this page. Before making any decisions pertaining to the company, readers should conduct their own investigation. Any harm or loss resulting from the use of or reliance on any of the content, products, or services mentioned in the sponsored content news release is not the direct or indirect responsibility of Ninja News.