After Cointelegraph published an unverified report claiming that the SEC had approved the iShares Spot Bitcoin ETF, Bitcoin briefly traded above $30,000. However, this news, coupled with the volatility in the cryptocurrency market, led to a liquidation of 100 million dollars within an hour.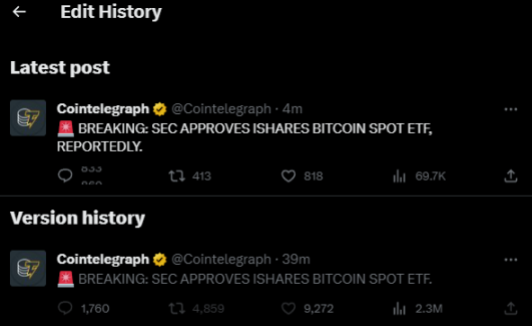 ETF Research Analyst James Seyffart made a statement on the subject at a time when Bitcoin was trading in the $ 30,000 range: "I believe this is fake news. "While this is positive in terms of what we are saying, I cannot find anything to confirm this at this time."
While there is no approval for the spot Bitcoin ETF on the SEC's official website, Bloomberg reported that BlackRock's ETF application is still under review.
First Short Positions, Then Long Positions Were Liquidated!
As a result of the false news, Bitcoin experienced a 9% drop from $30,500. This decline wasn't just in Bitcoin's price; it also triggered significant movement in market positions.
According to CoinGlass data, during the Bitcoin correction, $72 million worth of short positions were liquidated below $30,000, while $31 million worth of long positions were also settled.
Details; What is ETF?