The most notable token unlock is in Optimism. According to Token Unlocks data, Optimism will release tokens equivalent to 3.03% of its supply on 30th September 2023. The current market value of this amount is approximately $30 million.
The distribution of Optimism tokens will proceed as follows: $16 million will be allocated to contributors, while $14 million will be designated for investors.
Galxe (GAL) Token Unlock on the Horizon
The token unlock for Galxe (GAL) is imminent. On September 27, 2023, the number of tokens set to be released represents 1.26% of the total supply. The cumulative market value of these tokens stands at $786,000.
Token Unlock Awaiting for Yield Guild Games (YGG)
Yield Guild Games (YGG) is also gearing up for a notable token unlock. The quantity of YGG tokens slated for release on September 27, 2023, corresponds to 6.71% of its supply. The total market value of these tokens is currently around $2.56 million.
Based on the distribution plan; $640,000 will be allocated to the community, $659,000 will go to investors, $400,000 is designated for the treasury, and founders will receive the remaining $857,000.
This week will also witness significant token unlocks in other altcoins such as AGIX, EUL, ACA, FLOW, and 1INCH.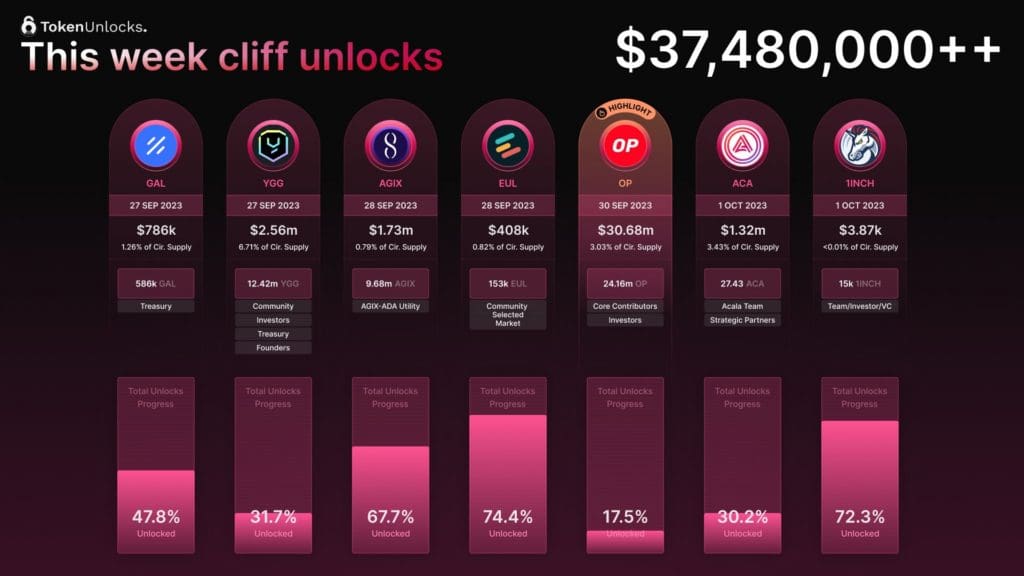 That sums up the expected token unlocks for September. However, the most immediate unlock to watch out for this month is with Galxe's token, GAL.
For more; What is Token Unlocking?