On Tuesday, popular telegram trading bot Unibot's telegram published a scam announcement from the creator xCurve. Users are advised to not click on any links, since the creator of the protocol may be hacked. Twitter account @icebergy_ tweeted "xcurve prob got sim swapped so careful with any tweets".
Unibot is a popular Telegram bot that allows users to trade cryptocurrencies without having to leave the Telegram app. It helps users to find new contracts and snipe tokens easily, with different features enabling them to be protected from MEV attacks.
Unibot Telegram Published Scam Announcement
The popular trading bot platform chat has witnessed a scam announcement message coming from the platforms creator xCurve on Tuesday. The message directs users to connect their wallet at a phishing website, and connect their wallets to get rewarded with $UNIBOT tokens.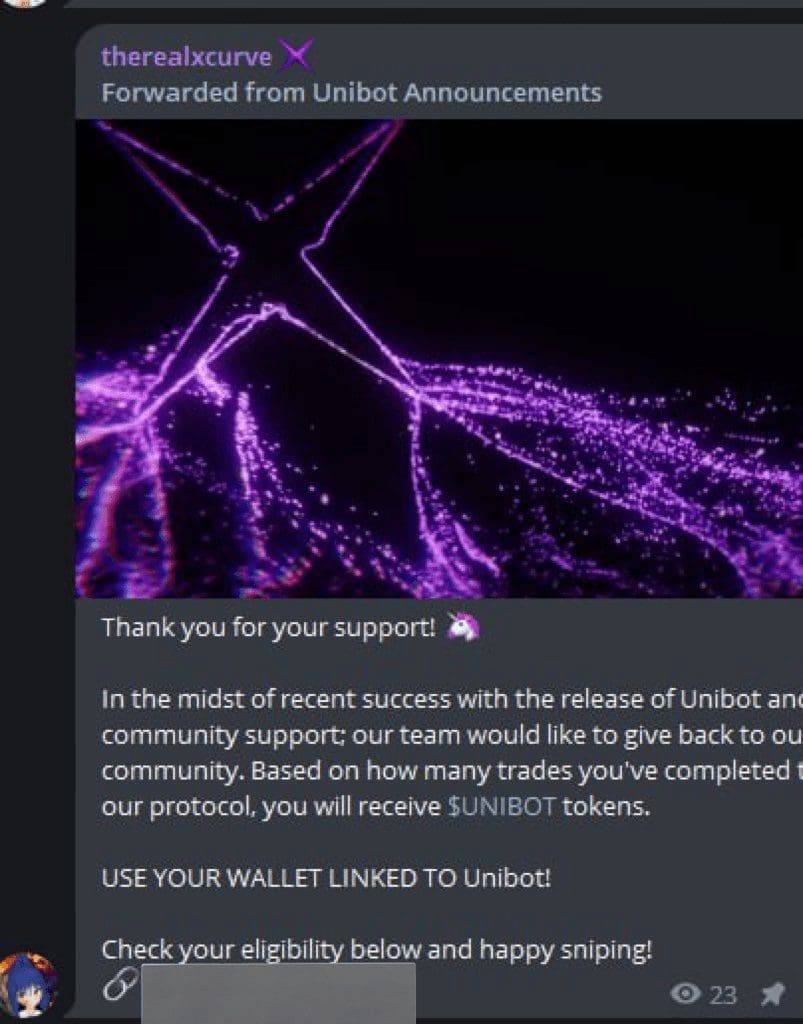 Although the platform has not yet been reported to be vulnerable, users are advised to not click on any links sent to Unibot's telegram chat, and beware of any tweets that may come from the platforms creator xCurve.
Update: Platform Founder xCurve Published Announcement on Twitter
The popular Telegram bot platform Unibot's creator xCurve published an announcement on his Twitter. He tweeted "Yea I got scammed. Someone posed as a reputable outlet and I clicked a tg group link that I shouldn't have. I've terminated all sessions and making sure everything is good right now. I've been booted from all channels. Don't click anything from me in the meantime."
Platform's founder also told users that he'll be taking a break for a few hours and has changed all passwords. If users have clicked any links and got scammed, xCurve told that the losses will be reimbursed