Binance CEO Changpeng Zhao, popularly known as CZ, has issued a warning to Justin Sun and other whales over the potential misuse of the SUI airdrop on Binance Launchpool. CZ expressed his concern through tweet and threatened to take action against Sun if he tries to take advantage of the airdrop.
Taking action against it, CZ warns Sun
Earlier today, Binance CEO Changpeng Zhao stated that Binance will take action against Sun if he attempts to misuse the SUI airdrop on Binance Launchpool, which is set to begin on May 1st. The warning was issued as concerns arose that Sun may try to manipulate the airdrop to his advantage, similar to tactics he has reportedly used in the past to manipulate token prices.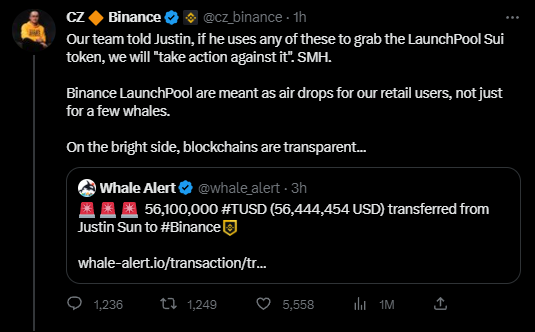 CZ went on to stress that the Binance Launchpool airdrops are intended for retail customers, and not for Sun or any other whales. In a seemingly veiled threat, CZ alluded to the transparency of blockchain technology by stating, "On the bright side, blockchains are transparent." This suggests that any attempt by Sun to manipulate the SUI airdrop by purchasing tokens with the proceeds of the TUSD sale would likely be detected through blockchain data analysis.
CZ's statement underscores Binance's commitment to maintaining a level playing field and preventing market manipulation, even as the crypto industry continues to face growing regulatory scrutiny.
About Justin Sun
Justin Sun is a Chinese entrepreneur who founded the cryptocurrency TRON (TRX) and is the CEO of BitTorrent. He has been a prominent role in the blockchain and cryptocurrency industries, and Forbes named him one of the most important persons in the world of blockchain technology.
Justin Sun was formerly accused of plagiarizing elements of the TRON whitepaper. He originally refuted the claims, claiming that the similarities were attributable to the fact that the TRON whitepaper addressed comparable subjects as other blockchain initiatives. He then confirmed that sections of the whitepaper had been plagiarized and pledged to rewrite the material.
Justin Sun is not only known as an entrepreneur but also a shady web3 magician and market manipulator. He has been accused of fraud and market manipulation by the Securities and Exchange Commission (SEC), as he allegedly coordinated wash trading on an unregistered trading platform to create a misleading appearance of active trading in TRX.
It is suspected that Sun pumped coins to his advantage on numerous occasions and engaged in morally questionable conduct.
Justin Sun's response was not delayed
Justin Sun responded to CZ's comments via a tweet saying that "the primary reason behind depositing TUSD, as a partner market maker for TUSD, is to facilitate market-making between leading TUSD exchanges, which provides liquidity and trading volume,"
He added that certain stablecoins were utilized, without intention, in exchange for initiatives that could have resulted in SUI token incentives, and that the decision would be undone.
Sun stated that it has deposited the tokens to Binance for market-making reasons by Tron DAO Ventures, a partner market maker of TUSD.
"Regrettably, some of our team members were not fully aware of the intended purpose for these funds and inadvertently used a portion of them to participate in exchange campaigns. Upon realizing this error, we immediately contacted the exchange team and arranged for a full refund of the funds."

Justin Sun.
It is unknown whether Justin Sun's explanations satisfied CZ, who sees Sun as a market manipulator. This tension between the leading figures in the crypto sector highlights the importance of transparency in the industry. In particular, the fact that Binance CEO CZ shares such situations with the public on Twitter for the first time may instill confidence in Binance users.