What is Credit Default Swap (CDS)?
The Credit Default Swap (CDS) is the insurance premium that will be paid if a country, a company or an institution that has issued debt securities fails to pay its debt. The higher this value, the more difficult it is for that institution or country to pay its current debts.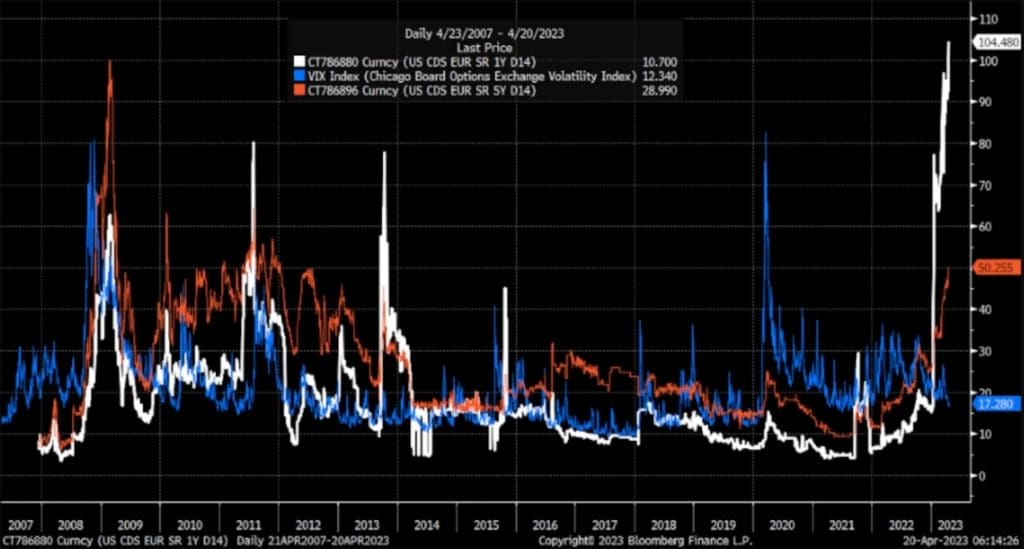 In the crises of the past years, this value has generally increased to 60 and above. In the chart, we can see that the current US CDS value is 104,480, so it is even higher than the crises in the past years. The part that we need to pay attention to here is that this graphic does not belong to an institution or company, but directly to the US government.
(White line 1-year US CDS)
(Orange line 5-year US CDS)
(Blue line US stock market volatility/fear index)
Borrowing Limits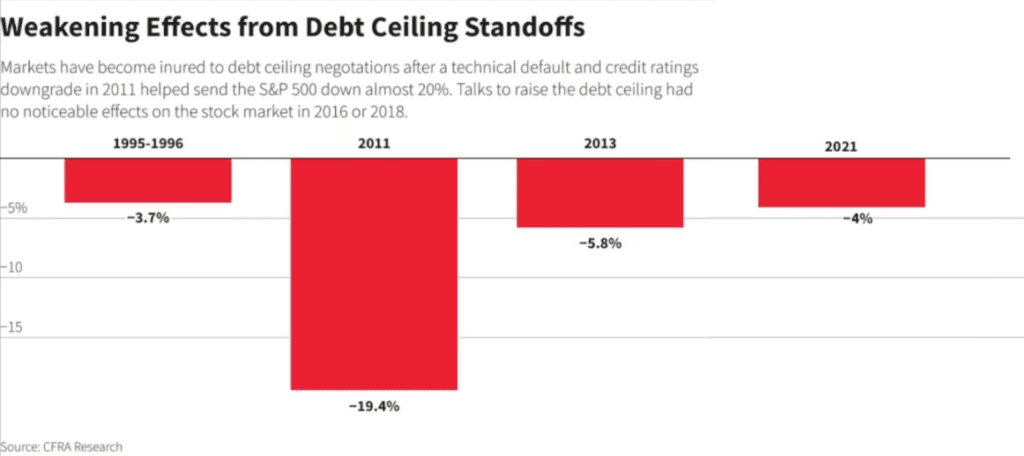 In the case of reaching the borrowing limit in 1995-1996, the American stock market lost 3.7% of its value. This value reached 19.4% in the 2011 crisis, 5.8% in 2013, and 4% in 2021.
Treasury Bonds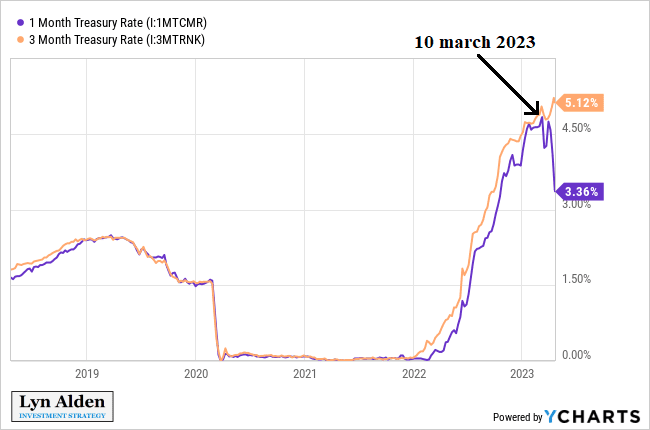 According to this graph, people are more interested in 1-month treasury bonds than 3-month treasury bonds and they buy more. This shows us that people don't think they can pay the value of America's treasury bonds held for more than a month. We can see that the difference in 1-month and 3-month treasury bonds started to increase on March 10, 2023, when America's 3 biggest banks (Silicon Valley Bank, Signature Bank and Silvergate Capital) went bankrupt.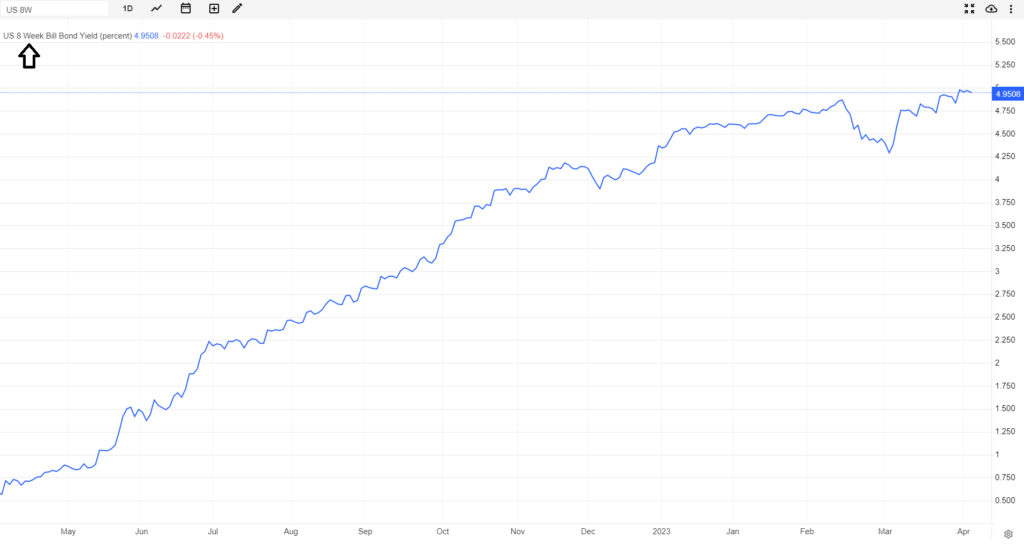 The situation looks the same for 8-week (2-month) treasury bonds.
Deposit Outflows from American Banks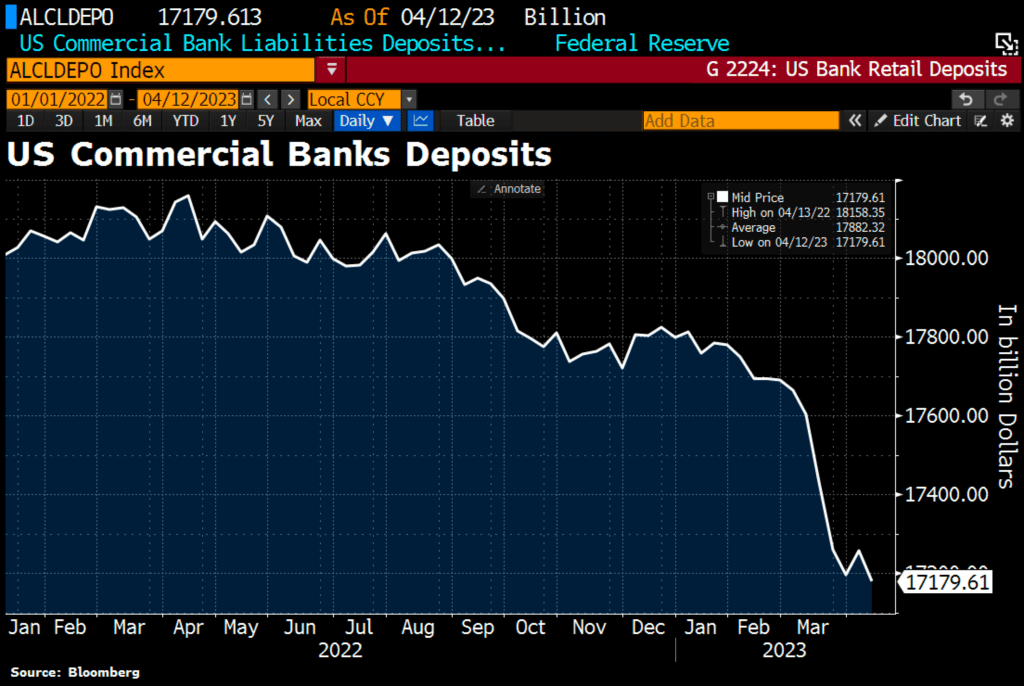 This chart shows us the decrease in deposits in American banks. In other words, people continue to withdraw their assets from banks. In the past 2-3 months, $76.2 billion deposits have been outflowed from banks. The decrease in deposits means that the conditions for lending are narrowed, which explains the difficulty in obtaining loans and the inability of institutions and organizations in need of cash to obtain loans. In the same direction, it shows that economic difficulties will continue and even grow and spread in the future.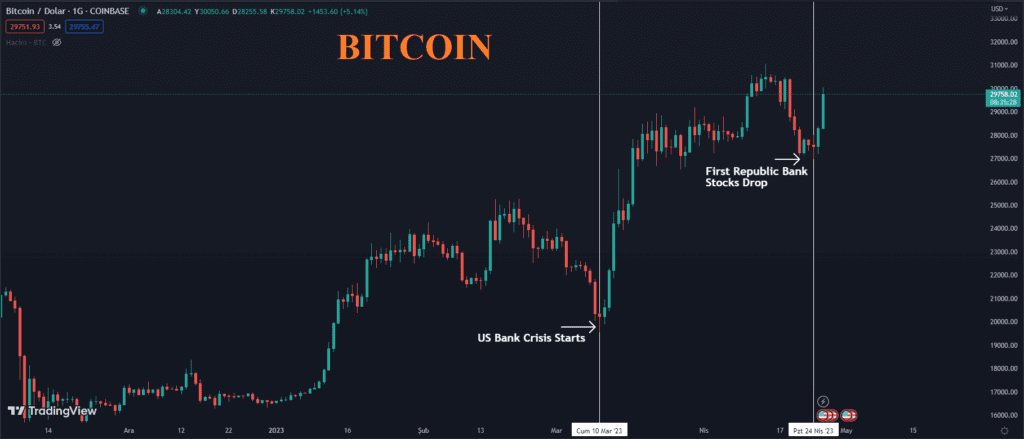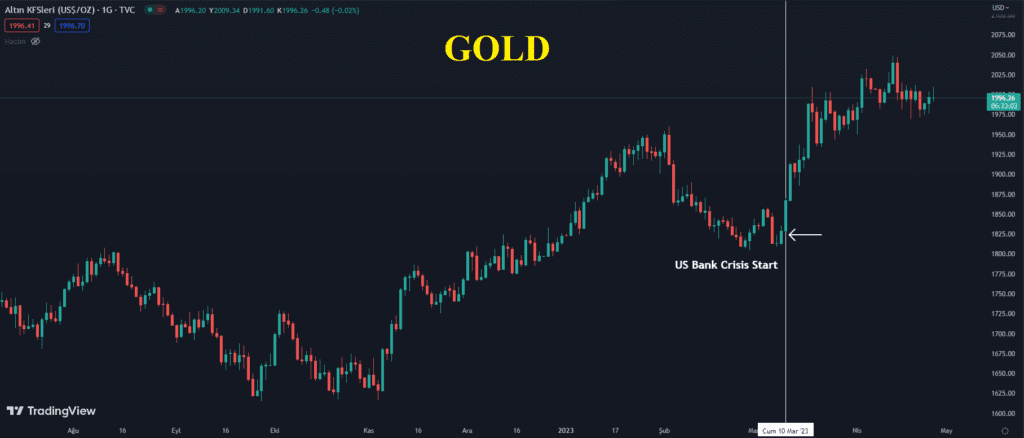 In the charts above, we can see the reactions of Bitcoin and Gold prices to the banking crisis. We can understand that after the loss of trust in banks in America, people turned their missed deposits into investment instruments such as Gold and Bitcoin.
You can also check out our news about First Republic Bank here.
What is Exchange-Traded Fund (ETF)?
Exchange Traded Fund (ETF) is a basket of securities that you can buy and sell on the stock market in the presence of authorized brokerages. Funds traded on the stock market make it possible to invest in a large number of securities and investment instruments with different characteristics at the same time.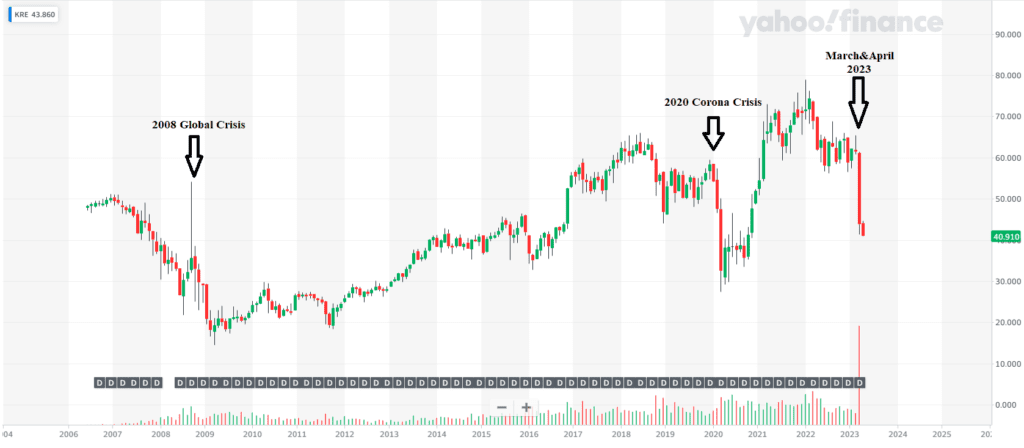 In this chart, we can see the ETF decreases in the US regional banks in the 2008, 2020 crises and the same situation in February 2023 and March 2023. Therefore, the crisis in American banks has not been resolved yet, and in some cases it continues to get worse.
In general terms, the crisis on the Banks of America has not been resolved yet.Although executives state that there is no problem, people continue to withdraw their assets from banks they do not trust and direct them to assets such as gold and cryptocurrencies. In the coming days, we will watch together how the banking crisis will continue.