2023 has been a challenging and unpredictable year due to global economic factors such as tightening monetary policies, the strengthening of the US dollar, and ongoing inflation. However, this doesn't mean that investors and central banks have lost interest in cryptocurrencies. On the contrary, many experts believe that during this period, Bitcoin's global significance has increased even further.
One of the most significant events of the year was the tightening policies of the Federal Reserve (FED) and the European Central Bank. This policy, coupled with the sale of Treasury bonds, created an upward pressure on yields.
Details; 16-Year High in US Bond Yields: Markets Await Powell's Speech
In 2023, the quantitative tightening of the FED and the European Central Bank drove up Treasury bond yields. Aggressive interest rate hikes further intensified this pressure, pushing yields to their highest levels of the year.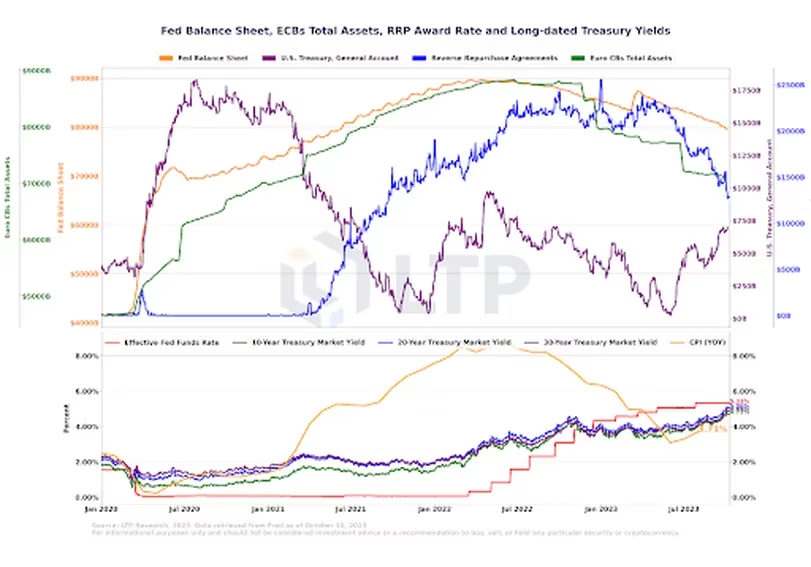 Since 2008, Treasury bond yields reached record levels, and comments about the strengthening of the US dollar led investors to shift from riskier crypto assets to traditional and more secure financial instruments. Gold was one of the commodities that rose the most during this period.
In this era, while the Israel-Hamas conflict continued, noticeable increases were observed in gold and oil prices.
Details; Reflections of Middle East Tension Persist in Global Markets: Latest on Asian Markets, Oil, and Gold
However, the uncertainties within the year were not limited to just these factors. Following the banking crises in March 2023, the Federal Reserve initiated the Bank Treasury Facility Program (BTFP) in response to liquidity constraints. Yet, the long-term effect of this program has not been observed so far.
Energy Prices Reached Their Peak
One of the most notable features of this period was the extraordinary increase in energy prices in the US. Both gas and crude oil prices reached the year's high. This also had a significant impact on the crypto markets; trading volumes had decreased since the beginning of the year.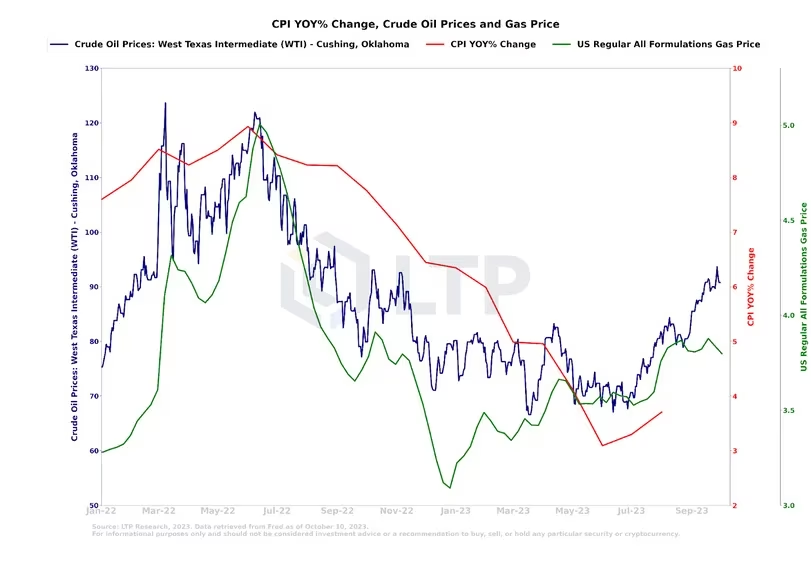 The SEC's increased scrutiny of the cryptocurrency industry has led to regulatory uncertainties among market participants. In addition, escalating geopolitical uncertainties, such as the Israel-Hamas conflict and the ongoing Ukraine-Russia war, prompted investors to withdraw from volatile assets like cryptocurrencies.
Global Oil Transportation at Risk
Experts like Reza Falakshahi are concerned that rising tensions could disrupt strategic points where a significant portion of global oil trade occurs, such as the Strait of Hormuz. Serious supply disruptions in potential conflict areas could amplify inflationary pressures and push central banks worldwide to adopt more aggressive interest rate policies to combat rising consumer prices.
However, there are positive views regarding the future of cryptocurrencies. Some experts argue that Bitcoin could become a gold-like store of value in the future. Indeed, despite recent uncertainties, Bitcoin continues to rise.
Bitcoin Trades Above $30,000 Once Again
Bitcoin recently experienced a strong surge from a support level of $27,500. It's now trading above $30,000, reaching a recent high of $30,600 in the past few weeks.
Bitcoin's success isn't solely based on technical data. Cryptocurrencies are emerging as a refuge amidst global turbulences, including uncertainties in America, threats of war, and economic challenges. Despite these adversities, many investors are turning to Bitcoin, contributing to its value increase.
Will BTC Continue to Rise? 21.10.2023
Source: Coindesk, Ninja News