In a landmark decision that could send ripples through the Decentralized Finance (DeFi) sector, the Commodity Futures Trading Commission (CFTC) has announced enforcement actions against three leading DeFi companies—Opyn, ZeroEx, and Deridex. Charged with various regulatory violations, these companies face hefty fines and stringent operational restrictions.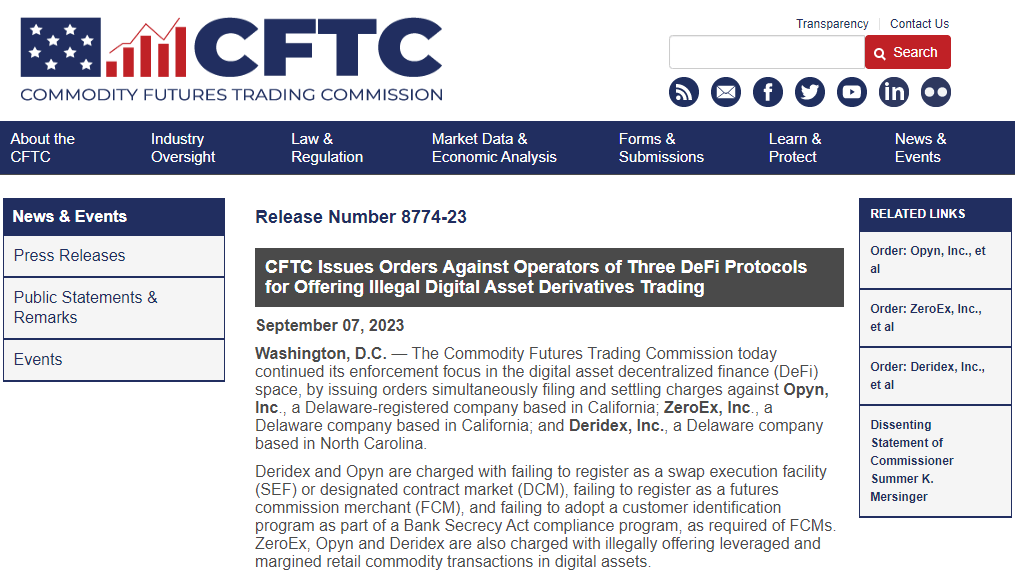 The Charges: Breaking it Down
The CFTC has charged Opyn and Deridex with failing to register as a swap execution facility (SEF) or designated contract market (DCM). They are also accused of failing to register as futures commission merchants (FCMs) and not implementing a customer identification program as part of a Bank Secrecy Act compliance program. ZeroEx joins them in the latter charges and all three are charged with illegally offering leveraged and margined retail commodity transactions in digital assets.
For those unfamiliar with these terms, an SEF is a trading platform where participants can execute swap transactions. DCMs are formal exchanges where futures contracts are traded, and FCMs are individuals or firms engaged in soliciting or accepting orders for futures or options contracts.
The Penalties
Each of these companies now faces civil monetary penalties, with Opyn receiving a $250,000 fine, ZeroEx $200,000, and Deridex $100,000. Moreover, they are required to cease and desist from any further violations of the Commodity Exchange Act (CEA) and CFTC regulations.
Case Background
Opyn, Inc.: Operated a digital asset protocol that offered trading of a digital asset derivative token called oSQTH. The platform was unregistered and engaged in activities that required FCM registration.
Deridex, Inc.: Offered trading of "perpetual contracts," leveraged derivative positions in virtual currencies, without proper registration.
ZeroEx Inc.: Developed a front-end application called Matcha that facilitated the trading of various digital assets, some of which were leveraged tokens, again without proper registration.
The CFTC's actions against Opyn, ZeroEx, and Deridex could serve as a precedent for how regulatory bodies will approach the burgeoning DeFi sector. This action not only underlines the need for such platforms to comply with existing laws but also raises questions about how the DeFi industry can move forward without running afoul of regulatory constraints.