In recent years, the United States' economic structure has been ensnared in an ongoing debt cycle. With the total debt reaching a record level of 33.04 trillion dollars, concerns about a recession in the country's economy are escalating.
Bond Yields Rise, Recession Probability Now Stronger
In the past two years, the U.S. has seen an increase in debt by 5 trillion dollars, and the yield on its 10-year bond has reached 4.8%. The rise in bond yields is further intensifying concerns. This indicates a significant increase in interest rates and market volatility. Consequently, economists are emphasizing that the odds of a recession are becoming more pronounced.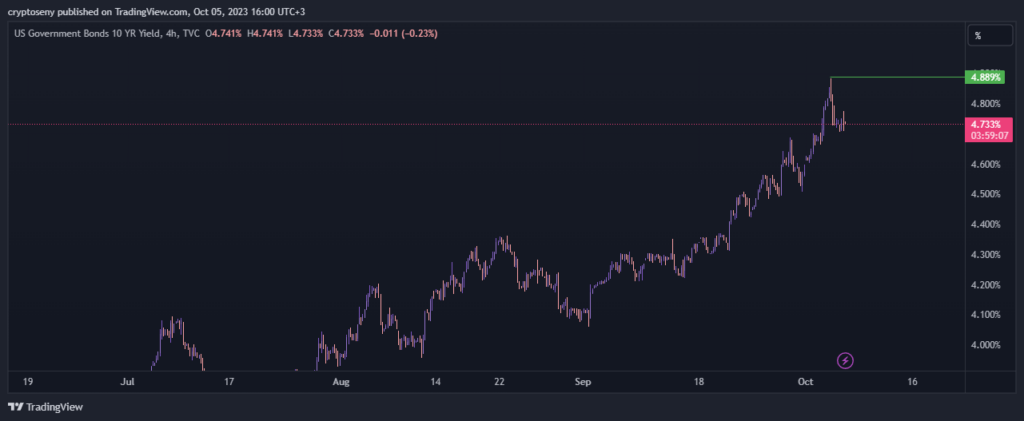 A rapid increase in bond yields in the U.S. compared to other countries usually signals that international investors find U.S. bonds riskier or that there isn't a positive outlook on the American economy.
This economic landscape, compounded by high oil prices, rising credit interest rates, and a strengthening dollar, paints a bleak picture. As companies face higher borrowing costs, the housing market starts to struggle with high-interest rates and prices.
Cryptocurrencies Could Also Benefit
In times of stagnation and economic uncertainty, trust in traditional financial institutions and currencies wavers. This is where cryptocurrencies come into play. The volatility in traditional markets and currencies is a primary reason for investors to turn to alternative asset classes. In this regard, the decentralized nature of cryptocurrencies and their high return potential can make them an investment tool for investors.
Especially, Bitcoin's limited supply can provide protection against inflation concerns during economic uncertainties. However, this could affect the approach of the U.S. Securities and Exchange Commission (SEC) towards crypto. The SEC's reluctant stance against spot Bitcoin ETF applications has a noticeable impact on the market.
On the other hand, during a potential recession, investors might be inclined to take on less risk. Given the volatility of cryptocurrencies, which can make them a risky investment, there's also the possibility that investors might turn to more traditional investment tools.
Sources: Bloomberg, Cointelegraph